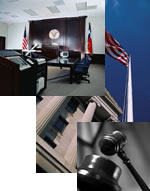 Huntsman Investigations is a State of Utah licensed and insured Private Investigation Agency. The owner and chief investigator, Douglas H. Huntsman, is a former police officer with 23 years of extensive experience and training in crime scene investigation, proper evidence handling, fingerprints and photography. He has testified in numerous jury trials and has a reputation of being a credible and knowledgeable witness.
Huntsman Investigations is able to assist with any type of litigation support for criminal and civil cases, including:
Review of Police reports and evidence chain of custody
Re-interview suspects, victims and witnesses
Locate new witnesses
Review evidence, scene photographs, video and diagrams
Assist with preparation of court exhibits
Investigate Workers Compensation and personal injury claims/fraud
Photography and video services


John Allan & John Easton of Allan & Easton
Criminal Defense Law Firm.
We have known Doug Huntsman for many years and have worked with him in both law enforcement and private investigations. We have always found him to be well organized, timely, fair and very professional. When we have investigatory needs, he is the first person we call.
Huntsman Investigations is a member of the National Council of Investigation and Security Services and Intellenet.